This is an archived article and the information in the article may be outdated. Please look at the time stamp on the story to see when it was last updated.
A 19-year-old man died after a single-vehicle crash in Riverside that witnesses told police was the result of a street race late Friday morning.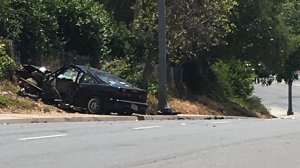 The fatal crash occurred about 11 a.m. on Olivewood Avenue near Cridge Street, according to a Riverside Police Department news release.
Witnesses told police that a 1998 Acura Integra was traveling northbound at a high rate of speed, and appeared to have been racing another car at the time.
"We don't know if they know each other but based on two witnesses, before the crash occurred they could clearly tell that these two drivers were engaged in street-racing," department spokesman Officer Ryan Railsback said.
As the vehicles weaved through traffic, the Acura driver lost control of his car and crashed into a concrete light pole, police said.
The other car — described as a dark, late-model Honda coupe — made a U-turn and drove past the crash site before continuing southbound on Olivewood, according to the release.
The Acura driver, a 19-year-old man from Mentone, was pronounced dead at the scene. His name has not yet been released.
The Acura had been modified for use in street racing, Railsback said.
A stretch of Olivewood between Cridge and Ramona Drive was temporarily closed while police investigated, the Police Department tweeted.
Anyone with information about the incident is urged to call Riverside Detective Z. Fishell at 951-826-8723.
KTLA's Melissa Pamer contributed to this article.