This is an archived article and the information in the article may be outdated. Please look at the time stamp on the story to see when it was last updated.
An emotional vigil was held Tuesday night for the 19-year-old United States Marine who was shot in the head last week while visiting his girlfriend's home in South Los Angeles, during which officials announced a $50,000 reward for information leading to those responsible in the shooting.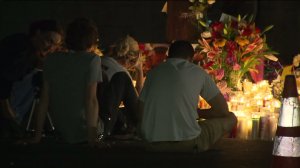 Carlos Segovia was shot late Friday night after confronting a group of people who gathered near his car in the area of 31st Street and Western Avenue. A coroner's official confirmed he had died early Tuesday morning.
In the days following the shooting, Segovia's mother Sandra Lopez had been fighting with hospital officials at Dignity Health California Hospital Medical Center to keep her son on life support.
Lopez had also been trying to transfer her son to another hospital where she said she hoped there would be less pressure to take him off life support.
"My son did not sign into the Marines to give up," Lopez prior to her son's death. "A Marine never gives up. I know what my son is going through. So I choose to ask the doctor to take another test and they refuse to do that."
Tuesday night's vigil was held at the scene of the fatal shooting. A large crowd of mourners gathered, held candles and shed many tears for Segovia, who was on leave from Camp Pendleton when he was killed.
Lopez said she was having an extremely difficult time coping with her son's death.
"I have no idea how I am going to live without him," Lopez cried.
Family and friends said Segovia was an active volunteer in his community, helped the homeless and encouraged at-risk youth to join the Marines.
"Whoever did this, you've taken out one of our own, you've taken out a U.S. soldier and we are after you," L.A. City Councilman Marqueece Harris-Dawson said at the vigil.
Family members said Segovia's organs will be donated to help continue his legacy of helping the community.
KTLA's Alberto Mendez contributed to this report.