This is an archived article and the information in the article may be outdated. Please look at the time stamp on the story to see when it was last updated.
Nearly three decades after it was stolen, a 1981 red Ferrari that was bound for Poland was intercepted by federal customs agents working at the Port of Los Angeles.
The 1981 Ferrari 308 GTSi was discovered Friday, April 8, having been described incorrectly on a manifest and using a false vehicle identification number, according to a news release issued Thursday by U.S. Customs and Border Protection.
The Ferrari has been stolen in 1987 from a consignment lot in Orange County, according to the news release.
The owner, who was compensated by his insurance company long ago, wishes to remain anonymous, the release stated.
The Ferrari model is similar to the one driven by actor Tom Selleck as a Hawaii private investigator in the 1980s television show "Magnum P.I."
Listed as a "1982 Ferrari," the vehicle was using a VIN that had already been assigned to a 1982 Ferrari 308 GTS that was exported from the U.S. to Norway via Germany in 2005.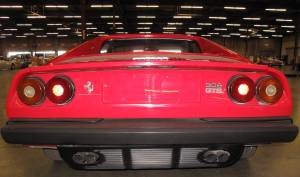 "This VIN discrepancy is what 'raised a red flag' and prompted further scrutiny," said federal customs Seaport Port Director Carlos Martel in the release. "Such keen attention to details by CBP officers is commendable, especially considering they process a daily average of 500 vehicles intended for export."
The vehicle has 45,000 miles on it and an estimated value of $50,000.
A Ferrari factory expert helped identify the vehicle, and the original VIN led to a police report for the 1987 theft.
A spokeswoman for customs at the ports of Los Angeles and Long Beach complex said the officer involved reported the seizure occurred at the Port of L.A.