This is an archived article and the information in the article may be outdated. Please look at the time stamp on the story to see when it was last updated.
It could be a wet, wet New Year's Day in Southern California. But Pasadena's enviable record of dry Rose Parades should stand, thanks to a "Never on Sunday" rule dating back to the 19th century, officials said Tuesday.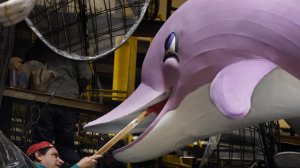 A cold front from the north should bring rain to Los Angeles on Saturday, stretching into Sunday, Jan. 1, the National Weather Service forecast. But for only the 15th time in its 128-year history, the Rose Parade will be moved to Monday, Jan. 2, sparing thousands of spectators a soggy vigil.
The parade never has been, nor will be, delayed for rain, officials said. But a custom of shifting the parade a day later when New Year's Day falls on a Sunday began in 1893 to avoid riling the horses hitched outside church and possibly disrupting the services inside.
The horses and hitching posts are gone, although the parade will have plenty of equestrian wizardry on display. But the Rose Parade, which is about nothing if not tradition — as well as tweaking hunkered-down East Coasters with images of sapphire skies and fecund floral displays — upholds the not-on-Sunday custom.
Click here to read the full story on LATimes.com.