This is an archived article and the information in the article may be outdated. Please look at the time stamp on the story to see when it was last updated.
A record 2.3 million travelers are expected to pass through Los Angeles International Airport during the Thanksgiving holiday period that started Friday, officials said.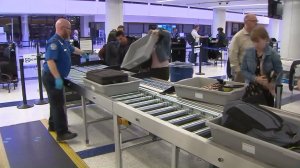 Thanksgiving is Nov. 24, but the busiest travel days are expected to be Friday, the Wednesday before Thanksgiving and the Sunday and Monday after the holiday, according to LAX.
Travelers are asked to "pack their patience" as they will be sharing roadways, terminals and gates with thousands of people.
Though LAX is projected to be the third busiest airport during the holiday period, more passengers will start and end their travel at LAX than at any other U.S. airport.
Automated screening lanes designed to streamline Transportation Security Administration checkpoints have begun at United Airlines and more are expected to try out the system later. Passengers are able to bypass slower travelers, or those with more belongings with the new screening lanes.
More than one million vehicles are predicted to be at the airport in the central terminal area of the airport. The busiest traffic days will be the Tuesday and Wednesday before Thanksgiving, and the Sunday and Monday after Thanksgiving, when 105,000 to 123,500 vehicles are expected to around the airport.
Other than Thanksgiving Day and Black Friday, every day of the holiday period will see more vehicles than LAX's normal daily average of 90,000 vehicles, airport officials said.
Travelers are encouraged to take public transportation or ride share options to the airport to avoid further traffic congestion. Delays are expected, so airport officials recommend that travelers give themselves enough time to arrive to the airport.
Motorists are also reminded of ongoing construction at the airport that will impact roadways, sidewalks and terminals.