This is an archived article and the information in the article may be outdated. Please look at the time stamp on the story to see when it was last updated.
Thousands of marijuana plants worth about $2.7 million were seized and destroyed after authorities searched through allegedly illegal grows in the Cuyama Valley — rescuing a puppy from one of the sites and seizing cocaine, rifles and $9,000 in cash along the way, the Santa Barbara County Sheriff's Office said Thursday.
No suspects were taken into custody in the searches at three different grows, which took place from Tuesday through Wednesday, sheriff's officials said. However, two men were seen fleeing from one of the sites as detectives approached, officials said.
A total of about 5,473 marijuana plants were destroyed in the two-day operation while two rifles, a small amount of cocaine and more than $9,000 in cash were found at one of the grows, officials said.
At one of the allegedly illegal sites, authorities rescued a puppy who appeared sick and was "huddled around growing chemicals," officials said in a news release. The puppy was taken Santa Barbara County Animal Services.
All of the seized marijuana was destroyed since the drug was being illegally grown, according to the Sheriff's Office.
"These cultivation sites did not possess any licenses from the State of California or the County of Santa Barbara to operate legally, nor had the responsible individuals attempted to obtain proper licensing," officials said in a news release.
In the first of the searches, on Tuesday, detectives descended upon a property located in the 1600 block of Santa Barbara Canyon Road, officials said. Two people, described as Hispanic men, were seen fleeing into the foothills as investigators arrived and came across a collection of cash, drugs and firearms.
Within the large marijuana grow, 1,955 plants were found along with more than $9,000 in cash, two rifles and some cocaine were seized, officials said.
The next search took place at a rural property accessed by Wasioja Road, where authorities uncovered 2,318 marijuana plants as trash from people camping at the site and various grow chemicals could be seen, officials said. While no suspects were found there, even after a chopper searched the area, authorities believe suspects were able to flee the site.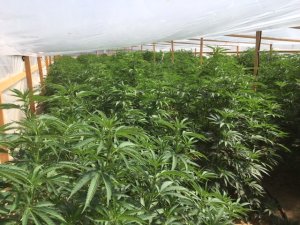 The last of the searches, on Sept. 26, took place at a rural property located in the 8300 block of Foothill Road, officials said. There, investigators found 1,200 marijuana plants and a small puppy, which was rescued and taken to county animal services after appearing sick and being near chemicals, officials said.
No suspects were found at the property but officials said there's evidence indicating a suspect or multiple suspects had been there in the past day.