This is an archived article and the information in the article may be outdated. Please look at the time stamp on the story to see when it was last updated.
A father, mother and their two young daughters were killed Tuesday morning when a car and a van crashed on a Palmdale highway, officials said.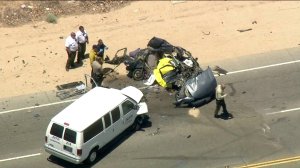 The two-vehicle crash was reported about 10:25 a.m. near Sierra Highway and East Avenue M, according to the Los Angeles County Fire Department.
A four-door green Kia sedan carrying the family of four was headed north on Sierra Highway when the driver swerved out of the car's lane for unknown reasons and collided with a van, Detective Rowell Quemuel, of the Los Angeles County Sheriff's Department, said.
"This is very difficult to see when we have a family pass away from a traffic collision," Quemuel told KTLA.
Authorities confirmed the van involved is an Antelope Valley Transit Authority vanpool vehicle. The driver of the van could not avoid the Kia when it crossed into its lane and that's when the crash happened, Quemuel said.
The mother, father and one of their daughters who was strapped into a car seat died at the scene. Quemuel said they died on impact and were not ejected from the car.
The second girl, who was also in a car seat, died at a hospital a short time later.
The names of the victims were not released. Both children were around 1 year old, the Associated Press reported.
The man who was driving the van was taken to a local hospital with injuries that were not life-threatening.
Quemuel told KTLA investigators were measuring skid marks at the scene to determine if speed was a factor in the crash. Authorities are also working to determine where the victims were going and coming from.
Residents told KTLA the crash occurred on a busy stretch of Sierra Highway where motorists are known to speed, and skid marks cover roadway for miles.
Sierra Highway at Avenue O was shut down for a time as authorities conducted their investigation — during which time drivers could be seen in aerial video venturing onto dirt roads to get around the crash.
The roads have since reopened.
Sierra Hwy at Ave O is closed due to a fatal traffic collision. Please avoid area if possible and please slow down and drive safe. #AV411 #LASD #Palmdale #littlerock #aguadulce #elizabethlake #greenvalley #Acton #lancaster @PalmdaleSheriff pic.twitter.com/1Vxq0Z3cbT

— Deputy Jason Jackman (@DeputyJackman) July 3, 2018