This is an archived article and the information in the article may be outdated. Please look at the time stamp on the story to see when it was last updated.
A man and a woman were arrested Tuesday in Huntington Beach after they allegedly impersonated police officers and attempted to pull over an off-duty sergeant, according to the California Highway Patrol.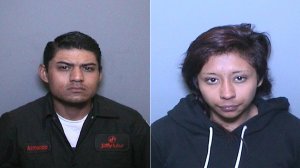 Around 12:30 a.m., the off-duty police man called 911 to report that a black Ford Crown Victoria had tried to stop him on the 405 Freeway just north of Euclid Street by flashing a red-and-blue strobe light through the windshield, a CHP news release stated.
The vehicle's occupants then activated a forward-facing spotlight before accelerating and passing the sergeant's vehicle, he reported to authorities.
"He observed … it was not a police patrol vehicle and called it in," a CHP officer on scene said.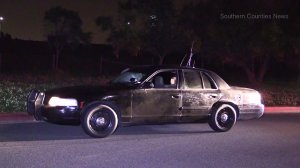 The off-duty sergeant followed the vehicle until it stopped along the right shoulder of the freeway near Beach Boulevard, according to the release.
Responding CHP units located  the car after it exited the 405 and initiated a traffic stop on Center Avenue just west of Beach Boulevard, officials said.
Officers searched the vehicle and found replica firearms inside, according to the release. The Orange County Register reported that the toy guns were a shotgun with an orange tip, an assault-style rifle and a scope.
Two flashlights inside the car had a red and blue "strobing feature" and may have been used in the attempted stop, the officer on scene said.
Video from the scene showed a battered, old Crown Victoria that appeared to be a former police vehicle.
"It could appear to be undercover or other sort of police vehicle," the officer said.
A male driver and female passenger were taken into custody. CHP identified them as 26-year-old Armando Raul Hernandez-Perez of Aliso Viejo and 20-year-old April Noemi Lopez-Fabian of Laguna Hills.
Hernandez-Perez, 26, was dressed in dark shorts and a black Jiffy Lube uniform shirt with a name patch reading "Armando" and an American flag on the shoulder, video from the arrest and his booking photo showed. A T-shirt he had underneath the Jiffy Lube shirt bore the California flag's bear symbol.
Lopez-Fabian had on blue jeans and a black hoodie.
Both were booked into the Orange County Main Jail on suspicion of conspiracy and impersonating a peace officer, the release stated.
The off-duty sergeant works for the Irvine Police Department, City News Service reported.