This is an archived article and the information in the article may be outdated. Please look at the time stamp on the story to see when it was last updated.
Two San Bernardino men have been arrested after allegedly stealing $1.4 million worth of Marvel collectibles from a Rancho Cucamonga storage facility, officials announced Monday.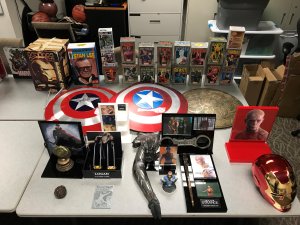 The incident was reported about 6 p.m. Feb. 22 when the victim realized his storage unit had been broken into and several of his collectibles were listed for sale online, according to the Rancho Cucamonga Police Department.
It is unclear, however, when the burglary actually occurred, Deputy Wendy Page told KTLA.
Some of the items had apparently been used as movie props in Marvel movies.
One of the suspects, Ian Florez, 35, was identified after he provided information to interested buyers online, police said.
Florez was arrested on Feb. 24.
A second suspect was identified as Matthew Rinke, 35. He was arrested during a traffic stop, and $1.4 million worth of the victim's property was found in a Colton storage facility rented by Rinke.
Both men were booked on the burglary warrant as well as other warrants, police said. Their bail was set at $25,000 each.
Some of the items were sold by the suspects, and the victim is slowly getting his stolen items back, Page said.
She said officials do not suspect more people were involved in the crime.