This is an archived article and the information in the article may be outdated. Please look at the time stamp on the story to see when it was last updated.
Two gang members have been arrested in connection with the death of a 9-year-old girl who was shot earlier this week while playing in front of her apartment complex in Anaheim, police announced Saturday.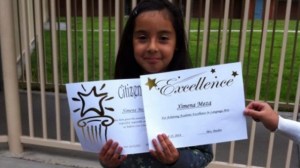 Police took 19-year-old Ricardo Cruz of Buena Park and 20-year-old Alfredo Miguel Aquino of Anaheim into custody shortly after 11 p.m. Friday in connection with Ximena Meza's killing, according the to a news release from the Anaheim Police Department.
Each was booked on a murder charge. Their booking photos were released Saturday at a news conference attended by police and family members.
"It doesn't really bring peace but at the same time I wanted to look at the eyes of the people that killed" Ximena, said a distraught Alexandra Ortiz, the victim's aunt. "How can they do that?"
Ximena died Wednesday night after being struck once in the chest by gunfire while playing with her sisters in the 2300 block of West Greenacre Avenue (map) Wednesday, according to police.
A witness told KTLA that immediately after the shooting, the girl's anguished father, William Meza, held his daughter and begged God to let her live.
Another witness intervened and tried to give her CPR before emergency personnel arrived at the scene.
Ximena was rushed by paramedics to a local hospital, where she was later pronounced dead.
Based on information from the preliminary investigation, police believed the little girl was the unintended victim of a gang shooting, and that the targets were a group of men who were congregated near the area where the children played.
A day after the shooting, Anaheim police had offered a $50,000 reward for information leading to an arrests and conviction in the case.
"We know that there were many people here at the park, who were playing softball, were playing football … who may have seen exactly what happened," Anaheim police Chief Raul Quezada said Saturday. "We are asking for that information."
Cruz and Aquino were each being held on 1 million dollars bail at the Anaheim Police Department Temporary Detention Facility, according to the release.
KTLA's John A. Moreno contributed to this report.