This is an archived article and the information in the article may be outdated. Please look at the time stamp on the story to see when it was last updated.
MURRIETA, Calif. (KTLA) – Murrieta police continued to investigate Tuesday after two men were arrested in connection with the disappearance of a 71-year-old woman.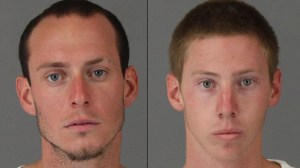 Catherine Sutton was reported missing Sunday when police were called to the 27000 block of Greystone Lane around 10:15 p.m., according to a news release from the Murrieta Police Department.
Based on several witness accounts and a search of the property authorities determined the case was suspicious and it transitioned into a homicide investigation.
Kyle Roger Mclean, 21, of Murrieta and Neil Michael Erickson, 18, of Wildomar, were both arrested in connection with the disappearance on Monday, police said in the news release.
Mclean was arrested on suspicion of homicide and Erickson on suspicion of accessory to commit murder.
No further details were released.
Investigators had not located Sutton and the investigation was expected to continue, according to the news release.
Anyone with information in the case was asked to call the Murrieta Police Department at 951-696-3615.