This is an archived article and the information in the article may be outdated. Please look at the time stamp on the story to see when it was last updated.
Two suspects have been arrested in connection with the fatal shooting of the owner of a San Bernardino drive-thru dairy during an armed robbery, police said Monday.
Mitesh Patel, 36, was pronounced dead after police responded to a 911 call at the Bossey Drive-In Dairy at 1611 N. E St. about 7:45 p.m. Friday, Jan. 29.
Desmond Stevenson, 25, and Robert Green, 23, have been arrested. They both have criminal records and gang ties, police said at a news conference Monday.
The two masked men entered the dairy in an attempt to rob it. One of them was armed with what police described as a shotgun, while the other man had a handgun.
"They both went up to Mr. Patel. The one with the shotgun put the shotgun up against him, demanded money out of the register, and very quickly thereafter shot Mr. Patel," San Bernardino Police Department Chief Jarrod Burguan said.
One round struck Patel in the chest, killing him almost immediately, according to a police news release.
The men fled through an alley, headed northeast.
A customer apparently witnessed the robbery, and the owner's relative emerged from the restroom during the robbery, causing confusion, police on scene said Friday.
Investigators said one man wore a hockey mask while the other had a red bandana over his face. The robbery was captured on surveillance video, police said.
The robbers' getaway vehicle was identified Saturday and one suspect was detained in Highland, police said. Then a second suspect was apprehended, and a shotgun, masks, and clothing worn during the robbery were found at his apartment, according to police.
The two suspects' identities were released at the Monday news conference.
Stevenson, believed by police to be the shooter, had just been released from prison on Dec. 23, Burguan said.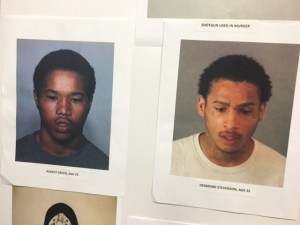 A cousin of Patel, of San Bernardino, appeared with police Monday. Fearful of the men who killed her cousin, she did not want to be identified, but said Patel had immigrated from India in 2003.
He wanted to bring his brother and sister to the U.S. from India. Patel leaves behind a wife and 3-year-old daughter, his cousin said.
"He was a family man. He was really generous," she said. "He was a gem of a person."
Patel had planned a 10-day vacation that was set to begin the day after he was killed, his cousins said.
A GoFundMe page was set up to create a college fund for his daughter.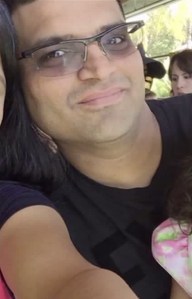 The coroner's office gave the victim's first name as Miteshkumar, while police said it was Mitesh.
The suspects were believed to have attempted to rob Bliss Liquor Store — about 1 mile away from Bossey Dairy — just minutes after Patel was killed.
They were arrested on suspicion of murder, robbery, and street terrorism, according to police.
They were identified after a small part of their getaway car was caught on surveillance video that night. That image — of the Mercedes-Benz SUV's modified rims — triggered the memory of an investigator who was familiar with the vehicle from another case, according to Burguan.