This is an archived article and the information in the article may be outdated. Please look at the time stamp on the story to see when it was last updated.
Authorities are searching for two attempted robbers who opened fire on pursuing security guards outside a jewelry store in Lynwood Tuesday.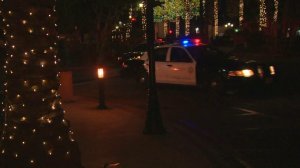 The incident began about 6:30 p.m. when three suspected robbers walked into a gold and jewelry store at Plaza Mexico in the 3100 block of East Imperial Highway, Los Angeles County Sheriff's Department Lt. Michael Thomas said.
The three attempted a smash-and-grab robbery, Thomas said, but security guards got involved and a series of altercations broke out.
The guards chased the three attempted robbers around the shopping center when shots rang out.
No one was hit and it did not appear that the security guards fired any of the shots, Thomas said.
One of the attempted robbers was taken into custody but the other two are outstanding, Thomas said.
KTLA's Nidia Becerra contributed to this report.