This is an archived article and the information in the article may be outdated. Please look at the time stamp on the story to see when it was last updated.
Two adult bodies were discovered in Joshua Tree National Park on Sunday, according to the public information officer with the park.
Hikers found the bodies in a remote area of the park around 11:30 a.m., Officer Jenny Albrink told KTLA.
San Bernardino County Sheriff's Department received a call around 1:50 p.m. and arrived on the scene a short time later, according to the Department. National Park rangers and Joshua Tree rescue team are also on the scene, authorities added.
The two bodies were found nearly three months after two hikers, 20-year-old Rachel Nguyen and 21-year-old Joseph Orbeso, went missing in the area.
The young couple were staying at an Airbnb, and the property's owner reported them missing when they failed to check out as scheduled in July, according to an uncle.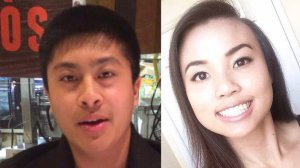 Search and rescue teams looked tirelessly for the pair and located their vehicle, a burgundy Lexus,  in the vicinity of the Maze Loop near the park's west entrance, but did not locate the couple, officials said.
A spokesman for the park told KTLA at the time of the incident that there was no reason to suspect foul play and officials believed the couple had gotten lost in the park.
Authorities have not yet confirmed that the two bodies found belong to Nguyen and Orbeso.  The bodies were transported to the Coroner's office for identification.