This is an archived article and the information in the article may be outdated. Please look at the time stamp on the story to see when it was last updated.
Grieving family members, friends and classmates gathered at the Los Angeles River in the Cypress Park area Monday afternoon after the bodies found over the weekend were identified by a coroner's official as two missing students from nearby Sotomayor Learning Academies.
The teens were Carlos Jovel, 16, and Gustavo Ramirez, 15, according to Lt. Larry Dietz of the Los Angeles County coroner's office.
The boys were described by classmates as "best friends," who "always had a smile on their face."
"I miss him a lot, my little brother, my baby," a tearful Griselda Ramirez said of Gustavo. "I was supposed to protect him."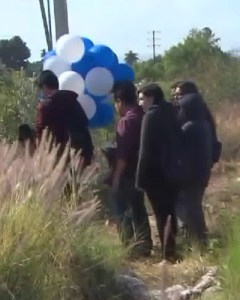 Jovel and Ramirez had gone out with a group of friends Friday but did not return home with the other members of the group, Carlos Jovel's sister Sandra Jovel said.
The friends said the group was "hanging out" near the river when Ramirez fell in, Los Angeles Police Sgt. Frank Preciado told the L.A. Times.
Jovel then jumped into the water to try to save his friend, but neither boy ever surfaced, Preciado told the newspaper.
A witness contacted authorities later in the day to report seeing two people in the river near San Fernando Road and Macon Street.
Los Angeles Police Department ground and air units searched the area, but were unable to locate anyone in the river.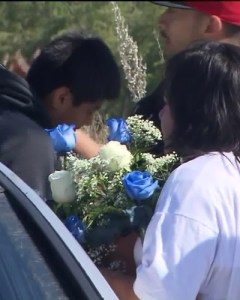 Jovel and Ramirez were reported missing later that evening by their families.
Their bodies were found and recovered from the river on Sunday.
"This is a dangerous area. We tell people to stay away from moving water," LAPD Detective Meghan Aguilar said, noting that the bodies were found in a stretch of the river where the water was as much as 12 feet deep.
A GoFundMe page was created Monday by Ramirez's older sister's coach to help pay for the families' funeral expenses for the boys. The coach, Luis Rodriguez, wrote that Yezica Ramirez is one of the top athletes at Lincoln High School in Lincoln Heights.
The boys were both sophomores at Sotomayor Learning Academies.
KTLA's Melissa Pamer contributed to this article.