This is an archived article and the information in the article may be outdated. Please look at the time stamp on the story to see when it was last updated.
Two men were charged Tuesday in connection with the robbery and fatal shooting of a 31-year-old man at a parking lot at Los Angeles Valley College.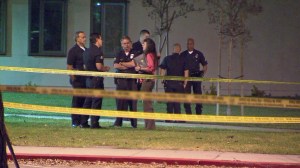 Raheen Ahab Taylor, 31, of San Jacinto, and Derrick Phillip Wilson, 25, of San Diego, were set to be arraigned Tuesday at Van Nuys Superior Court, according to a news release from the Los Angeles County District Attorney's Office.
Taylor and Wilson were charged with one count each of murder with a special circumstance allegation of murder during the course of a robbery, the DA's office stated.
They were also each charged with three counts of second-degree robbery in connected with the Jan. 25 incident.
They allegedly killed Ricardo Zetino, 31, of Tujunga, who was found shot multiple times next to a vehicle at a parking lot on the community college campus in the Valley Glen neighborhood.
Zetino died after being taken to a hospital.
The shooting "was the result of a drug deal 'rip-off,'" according to a news release from the Los Angeles County Sheriff's Department. There was no connection with the college, according to the Sheriff's Department, which was continuing to investigate.
Prosecutors planned to decide at a later date whether to seek the death penalty against Taylor and Wilson, who were being held without bail.