This is an archived article and the information in the article may be outdated. Please look at the time stamp on the story to see when it was last updated.
Authorities continued to search Halloween night for two men who fled after their SUV struck and killed three 13-year-old girls – two of whom were twins – who were trick-or-treating in Santa Ana Friday, authorities said.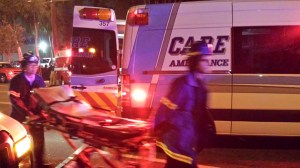 The girls were hit in the 1400 block of Fairhaven Street (map) around 6:45 p.m. Friday, Orange County Fire Authority said.
All three were found dead upon arrival, Santa Ana Police Department Capt. Anthony Bertagna said.
They were all 13 years old and two were twin sisters, OCFA Capt. Concialdi said.
The vehicle involved was found about 800 yards from the crash near a strip mall that included a Del Taco and Big Lots in the 2700 block of North Grand Avenue (map), Bertagna said around 9:12 p.m.
It appeared to be a Honda CRV.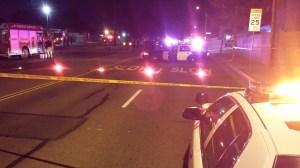 A witness said two men, a driver and passenger, fled the area.
Brittany Evans, an 8-year-old girl at the scene, said she was friends with the twins, and the two had protected her from bullies in the past.
Evan's father said he heard a screech and scream when the crash occurred.
"How do you think I feel? A father, my daughter,  Halloween night. I'm scared to hell," Jeff Evans said.
The incident occurred near Fairhaven Elementary School, in a 25 mph zone.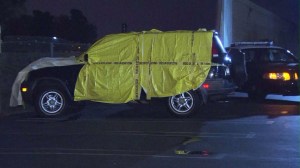 Initial investigations indicated the SUV may have been driving at least 50 mph.
The impact caused the girls to be thrown more than 100 feet, and no tire tracks were found at the scene, officials said.
Authorities were also investigating if the vehicle had been stolen.
Although the National Weather Service predicted rain in the area Halloween night, it had not rained prior to the crash.