This is an archived article and the information in the article may be outdated. Please look at the time stamp on the story to see when it was last updated.
Two people were killed and one person was seriously injured in a fiery Inglewood crash Thursday morning, officials said.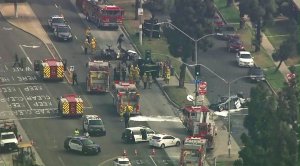 The crash was reported about 9:20 a.m. near the intersection of 108th Street and Crenshaw Boulevard, according to the Los Angeles County Fire Department.
Two vehicles were involved and one vehicle, a Mustang, was fully engulfed in flames, as video shows. The other vehicle, an Infiniti, also caught fire.
The two people inside the Mustang, a man and woman, were killed at the scene.
The third victim, who witnesses say was a man driving the Infiniti, was listed as being in serious condition after suffering injuries. He had been pulled out of the vehicle by a witness and an off-duty firefighter.
One witness, Kenya Watts, said she tried to perform CPR on the woman in hopes of saving her life.
"I get on my knees, I'm doing chest compressions, and it just did not work," Watt said. "I knew in my heart that the lady would just come to. You just feel the life in your hands."
But her instincts turned out to be wrong.
Another bystander, Kimberlee Couch, said she believed the man and woman had died on impact "because it was that bad."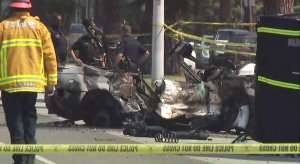 Witnesses told KTLA that both vehicles involved were speeding, one northbound and one southbound. Surveillance video from a church in the area shows a vehicle speeding down a street.
Couch said she saw the Infiniti stopped at a red light just moments before the deadly crash. She said the driver was trying to get her attention while their cars were stopped before he sped off.
She said the Infiniti then nearly rear-ended another car and appeared to be driving at speeds of 80 to 100 mph just before it collided with the Mustang. The street has a speed limit of 40 mph.
The driver of the Mustang was attempting to make a left turn onto 108th Street, when the Infiniti crashed into it, Couch said. She believes the Mustang should have had enough time to make the turn.
"There was more than enough time for that car to make the turn," Couch said.
Local residents told KTLA speeding is an ongoing problem in the area.
Just after the crash, aerial video from Sky5 showed several fire and police vehicles at the intersection. Both vehicles involved in the crash remained at the scene and appeared to be badly damaged, with the Mustang appearing destroyed.
One of the vehicles appeared to have sheared off a street sign in the area.
The scene is near Monroe Middle School, Morningside High School and a fire station.
KTLA's Jennifer Thang contributed to this story.