This is an archived article and the information in the article may be outdated. Please look at the time stamp on the story to see when it was last updated.
Four people were killed in a violent crash in Lancaster on Wednesday afternoon that also left two dogs dead, authorities said.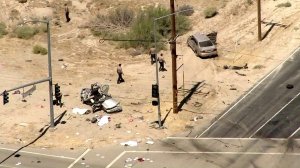 A Toyota Avalon was headed west on West Avenue H just after 12 p.m. when, according to a witness, the car ran a red light, striking a Volkswagen Jetta that was traveling northbound on 30th Street West, according to the Los Angeles County Sheriff's Department.
The force of the impact caused all three occupants — a man and two women — to be ejected from the Jetta, traffic investigators said.
Two died at the scene, while one of the women was pronounced dead at the hospital. The driver of the Toyota was also transported to the hospital, where he later died.
Preliminary investigation indicates none of the three people in the Jetta were wearing seat belts, according to sheriff's Sgt. David Jennings.
Authorities have not yet released the names of the victims, saying only they were between the ages of 30 to 45.
Two dogs in the Jetta also perished in the collision.
Both vehicles ended up on a dirt lot near the roadway, Sky5 aerial video showed. White sheets covered the bodies of two people outside the mangled wreckage of the Jetta, which visibly received the brunt of the damage.
The crash is under investigating, and authorities were working to confirm the witness report that the Toyota driver ran a red light.
"There's no factors that we can identify in the crash that would cause this person to run that red light. There's no braking before impact, so it's hard to put a reason as to why this person ran the red light," Jennings said.
He said there was no indication that any of the drivers were impaired at the time.
Avenue G-8 to Avenue H-12 and 25th Street West to 35th Street West was shut down for hours as authorities investigated the collision.
KTLA's Jennifer Thang contributed to this report.