This is an archived article and the information in the article may be outdated. Please look at the time stamp on the story to see when it was last updated.
Two men were killed and two others were injured in a shooting at a strip club in Canoga Park early Saturday, Los Angeles Police Department officials said.
The incident may have been an attempted robbery.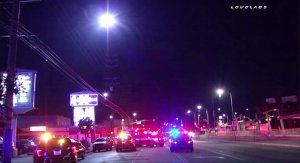 The shooting was reported about 4:30 a.m. at Xposed Gentlemen's Club, 8229 Canoga Ave.
The men who died are considered the suspects and were believed to have been shot by a security guard, officials said. The other man who was injured is a DJ at the club, officials said. They both had non life-threatening injuries.
They suspects were apparently seen outside of the club with guns before the shooting occurred and were wearing backpacks. Authorities believe the suspects may have been planning to rob the club.
"There may have been some warning or expectation that they were coming in," said LAPD Capt. Paul Vernon of the suspects. "Whatever went down, the security guard ended up engaging these people in gunfire."
Investigators were working to determine what led to the shooting and several witnesses were being interviewed.
"We should be able to get all of this clarified," Vernon said.
The club was about to close and about 15 people, including the owner, were inside when the incident occurred.
Vernon said the club has several rooms and floors, all of which had to be cleared by officers.
"It was a fairly chaotic scene inside," Vernon said.
Multiple guns were found at the club, he said. Police were not looking for any other suspects in the incident.
Officers have responded to the business before, officials said.
Vernon said the incident could turn out to be a justifiable homicide.
"They're inside their own business, they're allowed to be armed, they can protect themselves," he said.
"If this comes down and the story all plays out, this becomes what's considered to be a justifiable homicide, where someone is defending themselves against a threat."
No further details have been released.