This is an archived article and the information in the article may be outdated. Please look at the time stamp on the story to see when it was last updated.
Two people were killed and four others were injured Wednesday morning in an accidental fire that destroyed a licensed group home for people with special needs in Santa Ana, authorities said.
Firefighters responded to the 2100 block of North Hathaway Street (map) at 5:45 a.m. after multiple calls reported a structure fire, said Steve Concialdi, spokesman for of the Orange County Fire Authority.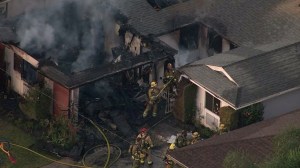 When the firefighters arrived, flames were emerging from the garage and the house, Concialdi said. Officials had received reports that a number of people were inside the home.
Fifty firefighters from multiple agencies – the Orange and Santa Ana fire departments, and the Fire Authority – knocked down the blaze within 30 minutes.
The fire was caused by an electrical failure in a personal electronic device, Concialdi said Wednesday afternoon.
One of the deceased victims was found on a bed; the other was discovered on the floor in another room, officials said.
"It's tragic," Concialdi said. "We lost two lives out here today."
Three people suffered smoke inhalation, and one person was critically burned. The injured were transported to Western Medical Center in Santa Ana, as was a firefighter with minor burns to his hands.
The caretaker at the home, a 71-year-old woman, was screaming when firefighters arrived.
"These were like her children, and so she's devastated," Concialdi said of the caretaker.
Authorities had initially said that two people died and five people suffered burns.
Hugo Montes heard the smoke alarm go off and was one of several neighbors who rushed to the scene before firefighters arrived.
"I tried to look for a hose … but I didn't see anything, so I ran to my parents' house and grabbed a hose," Montes said. "When I came back, it was just too late. The fire was too intense."
The 1,600-square foot, four-bedroom house, built in the 1960s, is a total loss, officials said. It was not immediately known if the house was equipped with smoke alarms.
Damage was estimated at $250,000 to the structure and $125,000 to its contents, Concialdi said.
KTLA's Courtney Friel and Melissa Pamer contributed to this article.