This is an archived article and the information in the article may be outdated. Please look at the time stamp on the story to see when it was last updated.
Two people died early Sunday after two crashes occurred in less than three hours on the northbound 15 Freeway in Rancho Cucamonga, officials said.
The first incident happened around 3 a.m. and involved a car and a big rig, according to the Rancho Cucamonga Fire Department. The agency confirmed the collision resulted in one fatality but provided no further details about the cause.
Footage shows what appears to be a blue Toyota hatchback mangled in the rear on the side of the freeway. The truck is seen badly damaged on its front right corner.
The Fire Department said slowing traffic at the scene led to another deadly crash at around 5 a.m.
According to the California Highway Patrol, that incident happened on the same freeway near Etiwanda Avenue and involved five vehicles.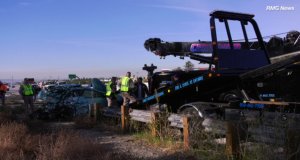 The agency said the male driver of a 2013 Toyota Prius was traveling at an unknown speed on the No. 4 lane when he struck the back of a 2005 Ford Escape, causing the second vehicle to slam into the center barrier.
The Prius then came to a rest across the No. 4 and 3 lanes, where the driver side was subsequently hit by an oncoming 2005 Honda Odyssey going about 65 mph, CHP said.
The Prius landed on the No. 3 lane in a northerly direction and was hit in the rear by a 2009 Volvo semitruck, investigators said. The Toyota's driver was ejected from that impact, and his vehicle ended up down the embankment east of the freeway.
A fifth vehicle passing by, a 2015 Toyota Sienna, was then hit by a piece of debris that shattered the minivan's left rear window.
Fire Department personnel pronounced the driver of the Prius dead at the scene, CHP said. His identity has not been released.
It's unclear whether any of the other drivers involved were injured. CHP identified the Escape driver as 26-year-old Mauricio Rodriguez of Apple Valley, the Odyssey driver as 43-year-old Tessie Cabello of Apple Valley, the Volvo driver as 26-year-old Christopher Ruiz of Riverside, and the Sienna Driver as 36-year-old Tharabuth Khleanig of Chino.
The incidents remained under investigation.
"Please be safe out there this Holiday Season," the Fire Department tweeted. "Practice safe and defensive driving and look ahead to spot slowing or hazards. Keep your hands off of the phones, and minimize any distractions. Report any unsafe driving or drunk drivers and be responsible."
KTLA's Lucas DerMugrdechian and Derrick Clemons contributed to this story.