This is an archived article and the information in the article may be outdated. Please look at the time stamp on the story to see when it was last updated.
The owner of a longtime hamburger establishment in Harbor City was killed by stray bullets fired by a gunman who had successfully targeted another man inside the restaurant on Wednesday morning, police said.
The shooter walked into Bob's Hamburgers, in a strip mall at 1151 Pacific Coast Highway, and wordlessly fired on his intended victim, according to police on scene.
The restaurant's owner came out, was in the line of fire and was shot, Los Angeles Police Department Detective David Cortez said.
The shooting occurred about 9:30 a.m.
The first victim, described by witnesses only as a young Hispanic man, died on scene.
The restaurant owner was taken to a hospital where he died. His cook first identified him as the victim, and that was later confirmed by Cortez.
His niece said his name was Bobby Antonelos and he was survived by his wife of more than 40 years, Vaso Antonelos. He had sold the restaurant and soon planned to retire, his niece said.
The restaurant's cook said he saw the gunman, his face covered, walk into the restaurant and open fire.
Police said they believe the younger victim and the shooter may be gang members.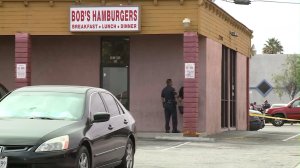 "Somebody was hit. Somebody else who was inside of the location came out … and was also hit, somebody who wasn't the intended target," police Cmdr. Phillip Tingirides said on scene.
Several regulars were at the restaurant Wednesday afternoon, mourning Antonelos. He was known by everyone in the neighborhood, one man said.
"He was an amazing person," said Bihaney Gomez. "I can't believe these things happen to amazing beings. I know that he's in a better place, but he's going to be missed by a lot of people."
Video from the scene showed the restaurant's glass door was shattered.