This is an archived article and the information in the article may be outdated. Please look at the time stamp on the story to see when it was last updated.
Two drivers were killed early Thursday morning in a wrong-way crash that occurred shortly after a traffic stop on the 110 Freeway in downtown Los Angeles, authorities said.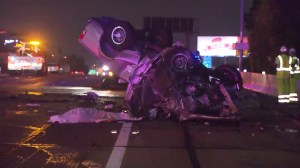 The incident began about 1:15 a.m. when Century Station deputies observed a white Acura sedan driving erratically on the southbound side of the freeway, near the 10 Freeway interchange, according to the Los Angeles County Sheriff's Department.
After the deputies pulled the car over, the driver suddenly made a U-turn and drove off at a high rate of speed in the direction of oncoming traffic, a department spokesperson said.
A caller about 1:19 a.m. reported a vehicle traveling northbound on the southbound side of the freeway, said Officer Roberto Gomez of the California Highway Patrol. A second caller then reported a two-vehicle collision with major injuries.
The Acura, heading in the wrong direction, had slammed into a small pickup truck just south of Wilshire Boulevard, Gomez said. The crash site is about 2 miles north of where the traffic stop occurred.
The two male drivers died at the scene, he said. They were the only occupants of the vehicles.
A SigAlert was issued and all southbound lanes except one were closed as crews worked to clear the area. All lanes were reopened by 5:12 a.m., according to the CHP.
Los Angeles County coroner's officials were called to the scene, and were expected to identify the drivers after removing the bodies and conducting an investigation.