This is an archived article and the information in the article may be outdated. Please look at the time stamp on the story to see when it was last updated.
Two people were killed in a crash involving two trucks that left a load of lemons spilled across State Route 126 in the Val Verde area, west of Santa Clarita, on Tuesday.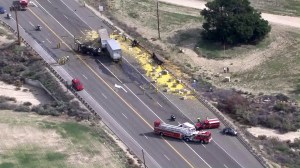 The crash was reported about 9:30 a.m. at Chiquito Canyon Road, according to the California Highway Patrol.
State Route 126, which runs from Ventura to Santa Clarita, was closed in both directions at 9:45 a.m., when a SigAlert was declared for an unknown duration.
One lane in each direction had been reopened by 4 p.m., according to the CHP's traffic incident log.
Two people were found dead on scene after the collision, stated Randall Wright of the Los Angeles County Fire Department. He said a passenger vehicle was involved, as well as two "semi" trucks.
Aerial video from Sky5 showed a big rig with two trailers labeled Oak Harbor Freight Lines had its cab destroyed, and a white sheet was placed over a body inside.
A flatbed truck that had apparently been carrying the lemons was overturned and in pieces. The trailer was transporting some 40,000 pounds of lemons, according to the incident log.
A gray sedan with serious front-end damage and a shattered windshield was stopped against the guard rail down the road.
It was not clear which vehicles the two people who died had been traveling in.