This is an archived article and the information in the article may be outdated. Please look at the time stamp on the story to see when it was last updated.
Two people have been detained after a multivehicle hit-and-run crash in Torrance that left one person dead and another with major injuries, authorities said Tuesday.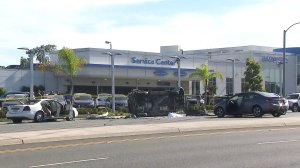 The crash was reported about 10:30 a.m. near the intersection of Hawthorne and Del Amo boulevards and five vehicles were involved, Torrance Police Sgt. Ron Harris told KTLA.
Officer discovered during the preliminary investigation that a 2004 Chevy SUV was "recklessly" traveling southbound on Hawthorne at a "high rate of speed" when it approached the intersection of Del Amo and sideswiped another vehicle, according to a police news release.
The SUV lost control, went over the center divider and onto the opposite side of the roadway, where it collided into two other cars heading northbound, the release stated.
The force of the impact caused the SUV to rollover and led to one of the four occupants being ejected during the crash.
The passenger was pronounced dead at the scene; his or her name has not yet been released.
The driver and one of the other occupants ran away from the vehicle, leaving the remaining passenger trapped inside, according to police.
Bystanders came to the aid of the trapped passenger before first responders arrived and rushed the seriously injured patient to a local hospital.
The two people who ran away from the scene were eventually detained nearby, Harris said. It was not known whether they would face charges.
All northbound lanes of Hawthorne Boulevard were shut down after the crash. All of the vehicles involved, as well as the body, remained at the scene about 12:45 p.m. One of the vehicles was on its side and others had major damage.
The incident is under investigation, Harris said.
KTLA's Irving Last contributed to this story.