This is an archived article and the information in the article may be outdated. Please look at the time stamp on the story to see when it was last updated.
A man was arrested in connection with a double homicide at a longtime hamburger establishment in Harbor City that killed restaurant's owner and another man on Wednesday, the Los Angeles Police Department reported.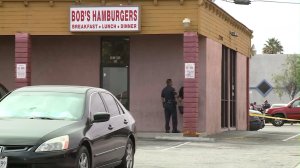 According to the LAPD, at about 9:25 a.m. Joey Mendoza walked Bob's Hamburgers, in a strip mall at 1151 Pacific Coast Highway, and fired several shots at his intended victim who was standing near the counter. That's when the owner came out and was struck by a stray bullet.
The first victim, described only as a young Hispanic man, was pronounced dead at the scene.  The owner, who a niece identified as Bobby Antonelos, was taken to a local hospital and later pronounced dead.
 Antonelos had sold the restaurant and soon planned to retire, his niece said.
LAPD detectives identified Mendoza through surveillance video, witness statements and gang intelligence, officials said.
After serving a search warrant, Mendoza was arrested without incident.
Police said the handgun used in the shooting has not been found.
Police said they believe the younger victim and the shooter may be gang members.