This is an archived article and the information in the article may be outdated. Please look at the time stamp on the story to see when it was last updated.
A man and a woman were found dead inside a home in Camarillo Saturday night in a suspected murder-suicide, according to the Ventura County Sheriff's Office.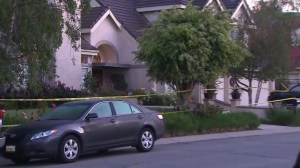 Deputies went to the two-story house located in the 2000 block of Paseo Noche shortly before midnight after a family member discovered the apparently deceased couple and called 911, said Sgt. John Franchi of the Sheriff's Office.
Responding deputies found a man and woman dead inside the house, according to Franchi. They appeared to be husband and wife, and in their 70s, he said.
The Sheriff's Office obtained a search warrant Sunday morning and conducted a thorough search of the property.
"Preliminary investigation looks like it's indicative of murder-suicide," he said in an interview at the scene shortly before 9 a.m.
The couple has yet to be identified.
A cause of death was not known, according to Franchi. He was unsure whether a weapon was found at the scene.
In an interview earlier in the morning, the sergeant told KTLA that authorities were not investigating the deaths as "suspicious."
"We don't think believe there is any outstanding suspects, and that everything that has happened is contained here in the house," he said.
The home, located in a quiet residential area, was cordoned off with crime tape nearly nine hours after the discovery of the bodies, video from the scene showed. Several law enforcement units were in front of the home, including some from the Camarillo Police Department, according to the footage.