This is an archived article and the information in the article may be outdated. Please look at the time stamp on the story to see when it was last updated.
Two Fullerton firefighters who were declared missing after failing to return from a backpacking trip in Yosemite National Park were found safe Tuesday, authorities said.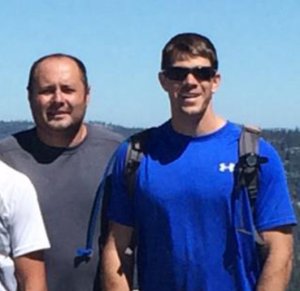 Firefighter Dave Brown and Capt. Javier Avelar had been reported missing Sunday, after they didn't come back on time from a hike they do every year, according to Fullerton Fire Department Division Chief Kathy Schaefer.
On Tuesday, Brown walked into a ranger station some time during the morning, and Avelar was found by rangers within an hour, Schaefer said.
"That firefighter training never goes away. The instinct to survive and get out alive will always be with them," she said.
The men are physically fit, she said.
"If anybody could make it out, it was them," Schaefer said.
Brown had separated from Avelar at some point during their backpacking trip, Fire Department Chief Wolfgang Knabe said.
According to Schaefer, once Brown found the ranger station he was able to lead rescuers to the area where he had last seen Avelar. After a helicopter spotted some of the men's equipment and ground searchers were able to locate and transport Avelar, whose scrape and bruises were extensive enough to prevent him from making it out on his own, she said.
They were on a six-day backpacking trip that started in the White Wolf area of the nearly 1,200-square-mile park last Tuesday, according to a flier distributed on the National Park Service's Investigative Services Branch's Facebook page.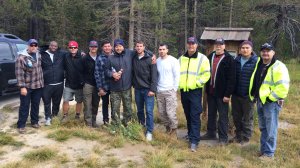 White Wolf is a campground at 8,000 feet in elevation along the Tioga Road, about an hour north of Yosemite Valley.
From White Wolf, the pair planned to head through Pleasant Valley over Rancheria Mountain before going to a camp site on the north side of Hetch Hetchy Reservoir, according to the flier. The two friends then planned to hike to Smith Meadow trail and return to White Wolf Sunday.
Their car was located before Brown was found, but authorities initially said they found no trace of either man after an intense search Monday that included the use of a helicopter.
Seven firefighters drove up and joined the search Tuesday morning, said Schaefer, who admitted crying when she learned the men had been found.
"It was so overwhelming for all of us because we are a fire family," Schaefer said. "When they were found, we were overjoyed."
No details were immediately available on what happened during the trip, nor on the health of the men after their return.
KTLA's Jennifer Thang contributed to this story.