This is an archived article and the information in the article may be outdated. Please look at the time stamp on the story to see when it was last updated.
Two people, including a possible special-needs child, were hospitalized Tuesday morning after a fire broke out at an apartment building in South Gate.
Fire officials initially sent a truck to stand by with South Gate police after a call about a "barricaded suspect" in the 5600 block of Gardendale Street (map) at about 3 a.m., Ed Pickett with the Los Angeles County Fire Department said.
Just before 4 a.m., heavy smoke began to rise from the second floor of the apartment building, Pickett said.
"We had two victims come out of that unit," Battalion Chief Glenn Goulet of the Fire Department said.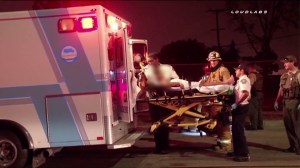 Both were suffering from smoke inhalation and were taken to the hospital with minor injuries, according to Goulet.
One of the patients was a "possible special-needs boy about 10 years old," Goulet said.
Neighbors said the other patient was the boy's uncle, adding that he had been going through tough times recently.
Firefighters knocked down the fire in about 15 minutes and arson investigators were called to the scene, Pickett said.