This is an archived article and the information in the article may be outdated. Please look at the time stamp on the story to see when it was last updated.
Two people were injured after being bit by a pair of loose dogs in Placentia Saturday morning, police said.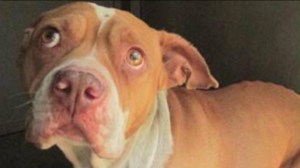 Officers responded to an apartment complex on the 300 block of South Jefferson Street shortly after 5:30 a.m., where they discovered that two people had "sustained significant dog bite wounds," according to a news release from Placentia police.
The victims were taken to local hospitals and treated for their injures, according to the release.
Police located the two dogs, described as pit bull types, in a gated parking area of the complex. They set up a perimeter in an attempt to keep the dogs away from the public until officers from the Orange County Animal Care arrived, the release stated.
As animal care officers tried to capture one of the dogs, it charged at a Placentia officer, who fired on the dog with a shotgun and hit it, according to police. The dog initially retreated to a corner of the parking lot after it was struck by gunfire. But as officers tried to capture the dog once more, it charged again at police, officials said. Two officers then shot at the dog, killing it.
The other dog was taken into custody without incident by animal care officers, according to the release.
No other dog bite victims were found.
The owner of the dogs had not yet been located.