This is an archived article and the information in the article may be outdated. Please look at the time stamp on the story to see when it was last updated.
Two people were shot, one fatally, and a third person was detained following an officer-involved shooting outside of a Wal-Mart in Hesperia Wednesday morning, authorities said.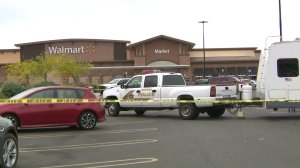 The shooting occurred in the 13400 block of Main Street before 8:20 a.m., according to the San Bernardino County Fire Department.
A San Bernardino County auto theft task force was in the Wal-Mart parking lot investigating a separate incident when they spotted a black Honda and noticed some suspicious activity outside the car involving three males, according to the Sheriff's Department.
The trio then got into the Honda, which had been reported stolen earlier in the morning, the vehicle's owners told KTLA.
The unit called for backup, and the Fontana Police Department and California Highway Patrol responded. When officers from the two agencies responded, they confronted the occupants.
At some point, the shooting occurred, and two men inside the vehicle -- the driver and front passenger -- were struck by the gunfire, according to sheriff's officials.
Cindy Bachman, a public information officer for the Sheriff's Department, said the car accelerated threateningly toward the officers.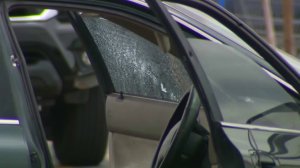 "The driver did accelerate, nearly striking one of the officers," she said. "And the driver went in reverse and forward."
No weapons were recovered from the scene, officials said.
The Sheriff's Department, which is investigating, was not involved in the shooting.
A medical helicopter was requested for the injured males, according to a tweet from the Fire Department.
One of the wounded later died, authorities said. The second person's condition was not immediately known.
Their names and ages have not yet been released.
A third individual who was in the backseat at the time was uninjured and has been detained, according to the department.
The car's owners told KTLA they didn't realize their Honda had been involved in the shooting until they saw it in a news report on television. They immediately went to the Wal-Mart and alerted authorities.
No further information was immediately released.
HESPERIA: #SBCoFD onscn GSW at Walmart. 13400 blk Main St. 2 victims with 2 med helo's requested.

— SB County Fire (@SBCOUNTYFIRE) May 31, 2017
PIO enroute to Walmart in Hesperia on Main St. reference OIS. More to follow.

— San Bernardino County Sheriff (@sbcountysheriff) May 31, 2017
OIS in #Hesperia- 1 suspect deceased,1 injured, 1 detained for inv. PR to follow. All media inquiries will be handled by @sbcountysheriff

— San Bernardino County Sheriff (@sbcountysheriff) May 31, 2017