This is an archived article and the information in the article may be outdated. Please look at the time stamp on the story to see when it was last updated.
The man accused of stabbing a diner at a Burger King in Burbank has died after a customer came to the victim's aid after the initial attack late Tuesday morning, police said.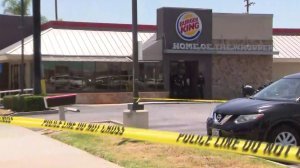 He has been identified by police as 36-year-old James Rey Richard Kagaoan, a transient with his last reported address in Sun Valley.
Officers were dispatched to the fast-food restaurant in the 500 block of North Victory Boulevard just after 11 a.m. after receiving a call of an assault with a deadly weapon, according to a news release from the Burbank Police Department.
When they arrived, officers found two men suffering from stab wounds, the release stated.
The investigation revealed the victim was having lunch with two acquaintances when Kagaoan allegedly entered the restaurant with a knife and — for unknown reasons — began stabbing him in the face, authorities said.
Burbank Police Sgt. Derek Green described the victim as "elderly," but did not provide an age.
As the attack continued, another customer intervened. During the ensuing struggle, Kagaoan received several stab wounds, authorities said.
While he was initially said to be in critical condition when he was taken to the hospital, he later died from his injuries, officials said.
The victim was also hospitalized with non-life-threatening injuries.
The customer was not transported.
A motive for the attack is not yet known, but police believe the stabbing was "completely random and unprovoked," according to the release.
Anyone with information about the incident is urged to call Burbank police at 818-238-3210.
KTLA's Jennifer Thang contributed to this story.