This is an archived article and the information in the article may be outdated. Please look at the time stamp on the story to see when it was last updated.
Two women were hospitalized, and a car was ripped in half as the result of a suspected DUI crash in Pasadena Monday morning.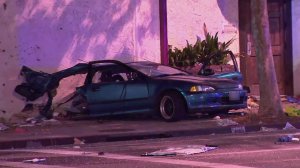 The two-car collision was reported just after 3 a.m. near the intersection of Colorado Boulevard and Wilson Avenue, the Pasadena Police Department stated in a news release.
Investigators believe a black 2015 Dodge Charger being driven by a 26-year-old woman from Pasadena ran a red light at a high rate of speed before slamming into a green 1995 Honda Civic.
The Charger then careened into a wooden pole, video showed.
The Civic, being driven by a 43-year-old woman, was split in half as a result of the impact, video showed.
Debris from the collision even damaged nearby buildings.
Both women involved in the crash were taken to a nearby hospital with moderate condition. They were listed in stable condition, the Police Department stated.
The unidentified driver of the Charger is suspected of being under the influence of alcohol at the time of the crash, the Police Department stated.
Anyone with information was asked to call the Police Department at 626-744-4241. Those who wish to remain anonymous can call Crime Stoppers at 800-222-8477.