This is an archived article and the information in the article may be outdated. Please look at the time stamp on the story to see when it was last updated.
Police were investigating a triple-shooting that occurred in the Vermont-Slauson neighborhood of South Los Angeles Thursday.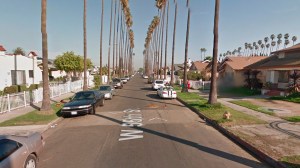 The shooting took place at a home in the 1100 block of West 55th Street (map) at about 10:53 a.m., Officer Matthew Ludwig of the Los Angeles Police Department said.
Two people were killed in the shooting and a third was taken to a local hospital with injuries that were not considered to be life-threatening, Ludwig said.
One of the deceased people, who were both found inside the home, was believed to be the shooter, according to Ludwig.
The ages and genders of the people involved were not immediately released.
Check back for updates on this developing story. 
KTLA's Feven Kiflegiorgis contributed to this report.