This is an archived article and the information in the article may be outdated. Please look at the time stamp on the story to see when it was last updated.
Two people were killed in a high-speed collision in the Jefferson Park area of South Los Angeles Sunday night.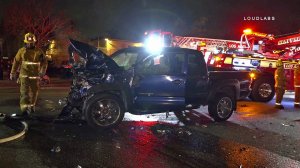 The two-vehicle crash occurred about 10:10 p.m. near the intersection of Adams Boulevard and 7th Avenue, Los Angeles Police Department Sgt. Ellison said.
Video from the scene showed a car involved in the crash had overturned and came to a stop against a nearby fence.
One of the vehicles, which had three people inside, was believed to have been speeding through the intersection when the crash occurred, Ellison said.
Two people inside the speeding vehicle died as a result of the crash. The third person was taken to a hospital in unknown condition, Ellison said.
The second vehicle had only one person inside.
That person was taken to a hospital in stable condition, Ellison said.
KTLA's Alexandria Hernandez contributed to this report.