This is an archived article and the information in the article may be outdated. Please look at the time stamp on the story to see when it was last updated.
A brother and sister were killed and two other high school students were injured in a "catastrophic" wrong-way collision on Pacific Coast Highway in Wilmington on Thursday afternoon, authorities said.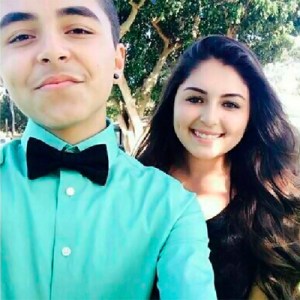 Police initially said the crash was the result of street racing.
But later, investigators would only say that the red Honda Civic involved in the fatal crash was speeding down PCH on the wrong side of the street alongside a pickup truck, that was also driving against traffic.
"The driver of the Honda lost control and hit a white ride-share van while the pickup truck kept going," said Sgt. Dana Adams of the Los Angeles police Department.
Siblings Lexi and Eli Garcia, were pronounced dead at the scene. Two female friends, also riding in the car, were transported to Harbor-UCLA Medical Center in critical condition.
The collision occurred about 3:15 p.m. at 350 West Pacific Coast Highway (map), according to Brian Humphrey of the Los Angeles Fire Department.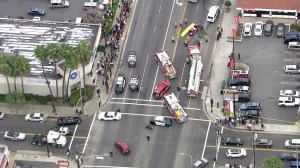 A spokesman for the Los Angeles School Police Department said the two individuals killed were students from nearby Banning High School, which gets out at 3 p.m.
The school principal was called to the crash site to help identify those killed, school police Sgt. Bernal said.
The victims were 16 and 18, LAPD Sgt. Dana Adams said at the scene.
Video from the scene showed a woman, believed to be the Garcias' mother, screaming and being held back by a police officer and others.
A white ride-share van with front-end damage was pulled over at the site of the crash, where the red car was  totaled, aerial video from Sky5 showed.
The driver of the van was not seriously hurt. A third car was also involved, and that vehicle's driver had minor injuries, police said. Authorities were searching for the pickup truck that sped away.
White sheets were placed over several spots on the car, apparently to cover bodies. Later, a tent was erected around the car.
Multiple fire engines were on scene, as were several LAPD patrol cars. Dozens of people were gathered along PCH.
The site of the crash was on a busy strip of PCH one block from Fries Avenue Elementary and three blocks from Banning High.
Brian Humphrey of the Los Angeles Fire Department initially described the victims as two adults. He later apologized for "mistaken assertion" that the victims were adults; that information was based on their size, he said.
Police were still looking for the driver of the second vehicle which was described as a dark-colored American-made pickup truck.
KTLA's Scott Williams and Jacqueline Sarkissian contributed to this article.
More Videos: