This is an archived article and the information in the article may be outdated. Please look at the time stamp on the story to see when it was last updated.
Sheriff's deputies shot and killed two men early Sunday morning in East L.A. after one of them allegedly pointed a replica handgun at a pedestrian and the deputies, officials said.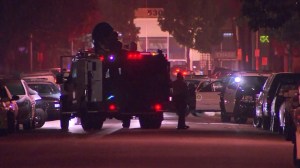 Around 2:20 a.m. a 32-year-old man was walking through a business parking lot in the 1100 block of South Atlantic Boulevard (map) when two men in a light-colored SUV allegedly drove alongside him, according to a Los Angeles County Sheriff's Department news release.
No words were exchanged and the passenger pointed a handgun at the pedestrian, the release stated.
The driver, a 57-year-old man, and the 26-year-old passenger then drove away, northbound on Atlantic Boulevard.
The victim then got into his car, followed the men and called 911 before spotting a patrol car and flagging down sheriff's deputies.
Deputies attempted to conduct a traffic stop when the passenger excited the vehicle. After a "short distance" the driver parked the SUV in the driveway of an apartment complex in the 5300 block of Verona Street (map) and also exited.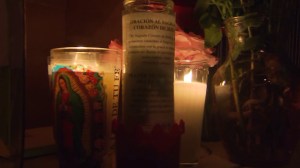 The older man then stepped behind the 26-year-old, who brandished what appeared to be a handgun and pointed it at the sheriff's deputies. Deputies then shot and killed both men.
A neighbor who says she witnessed the incident and knew one of the men said they were unarmed and should not have been killed.
"He's such a nice guy. I can't believe the cops just shot him like that. They could have disarmed him. He was no threat," Dulce Rodriguez said.
The gun was later determined to be a replica .45-caliber handgun, the Sheriff's Department news release stated.
No deputies were injured during the incident.
Officials had previously indicated the men had been shot while inside the vehicle.
KTLA's Tracy Bloom and Geoff Peters contributed to this report.
More videos: