This is an archived article and the information in the article may be outdated. Please look at the time stamp on the story to see when it was last updated.
Two people were killed after the vehicle they were in crashed into a tree and burst into flames in Hollywood while they were apparently fleeing police, Los Angeles Police officials said Sunday.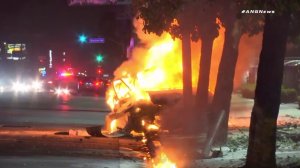 The crash was reported about 2 a.m. when police spotted a car that had been reported stolen.
Officers attempted to stop the driver, but the person sped off. Witnesses at the scene said the driver was going about 70 mph before the person crashed near the intersection of Hollywood Boulevard and Gower Street.
"It's clear that at one point they lost control," LAPD Sgt. Barry Montgomery said about the driver. "It was short of a miracle that nobody on the sidewalk or other vehicles were struck."
Lauren Weening and a friend had just left a club in the area and were in an Uber when they saw the vehicle speed by them and run through a red light. They saw several LAPD units following the vehicle.
Video from the scene showed the car was engulfed in flames. Responding police officers tried to put out the flames, but were not able to. Los Angeles firefighters eventually extinguished the blaze and officers eventually put a white sheet over the involved vehicle. The people in the vehicle have not been identified, but they were apparently the driver and a passenger.
Hollywood Boulevard was closed from Gower Street to Bronson Avenue for hours during the investigation and was reopened about 1:45 p.m.
The Los Angeles Fire Department also responded to the scene.
Hwd Blvd closed btw Gower & Bronson due to pursuit/crash investigation that killed two. Ofcrs tried valiantly to put out fire but could not

— LAPD Hollywood Division (@LAPDHollywood) May 14, 2017
2 dead after car they were in crashes while being pursued by police on Hollywood between Gower and Bronson. Street currently closed @KTLA pic.twitter.com/M21ytFZiwH

— Chris Gierowski (@tepall14) May 14, 2017