This is an archived article and the information in the article may be outdated. Please look at the time stamp on the story to see when it was last updated.
Two people, a man and a teenager, were killed after the man's BMW careened into oncoming traffic in Santa Clarita early Tuesday morning, authorities said.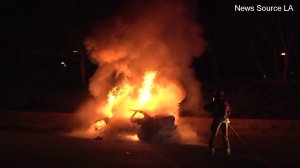 The vehicles collided head-on near the intersection of Decoro Drive and McBean Parkway around 12:10 a.m., Santa Clarita Valley Sheriff's Station Lt. Chuck Becerra said.
The 34-year-old driver of a BMW heading northbound on McBean was spotted weaving in and out of traffic at a high rate of speed when the vehicle hit a tree. The driver lost control, crossed over the center median and struck a Honda that was traveling southbound head-on, according to a sheriff's press release.
The driver of the BMW was pulled from the vehicle and pronounced dead at the scene, Deputy Ryan Elsee said.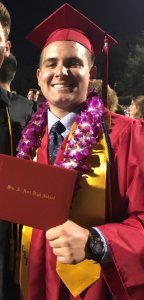 Video showed the BMW caught fire a short time after the driver was taken out.
The 18-year-old driving the Honda was also killed in the crash and declared dead at the scene, Elsee said.
Los Angeles County coroner's office officials identified the two killed as 18-year-old Collin Charles Gore and 34-year-old Joel Thomas Godfrey.
Gore was in the Honda, while Godfrey was driving the BMW, according to a Santa Clarita Sheriff's Station official.
Gore, who turned 18 last month, had recently graduated from Hart High School, where he was a member of the swim team. A vigil was scheduled to be held at the school for the teen at 8 p.m. Tuesday.
Adriana Aguirre, a classmate of Gore's, said she had been hanging out with him just before the fatal crash, and he was the first to leave the gathering.
"It makes me mad. It makes me really mad. He had so much going for him," she told KTLA. "He's one of the brightest, funniest kids in our friend group."
Gore had recently posted a video to social media announcing his decision to attend San Diego State University in the fall.
"Today the Hart swim family lost an incredible alumni member," the team wrote on Twitter. "Collin's positive energy and spirit was cherished by all."
It was unknown if Godfrey was under the influence of drugs or alcohol at the time of the crash, authorities said.
McBean Parkway from Decoro Drive to Cottage Circle Drive was closed for several hours in both directions during the investigation.
KTLA's Steve Bien contributed to this story.
Today the Hart Swim family lost an incredible Alumni member. Collin's positive energy and spirit was cherished by all. Rest In Peace. ❤ pic.twitter.com/CLpsp2awKN

— Hart Swim Team 2017 (@HartSwim2017) July 4, 2017