This is an archived article and the information in the article may be outdated. Please look at the time stamp on the story to see when it was last updated.
A fire inside a music studio in Studio City on Saturday left two people dead and two in critical condition,  according to the Los Angeles Fire Department.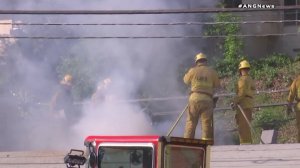 Some 80 firefighters responded to the incident at a one-story commercial building at 3779 N. Cahuenga Blvd. shortly before 7 a.m., the agency said. A company called Top Notch Recordings was listed under that address.
Authorities initially said the blaze happened in Universal City.
Fire officials also earlier said that there were two others transported to a hospital in unknown conditions, but later clarified that there were only two injured in addition to the two people who died.
The two injured people, who were in critical condition, were a man and a woman.
Crews extinguished the flames in 28 minutes, the Fire Department said.
Officials estimated the size of the studio to be 50 feet by 75 feet.
L.A. Pryce, a musician inside the studio at the time, said he awoke to the smell of smoke and made a terrifying escape from the blaze.
"I almost lost my life," Pryce said. "I barely got out. I ran through the fire and through the smoke."
"All I could see is black smoke … and flames," he said.
Rapper Nick Cruz said he went home after a recording session inside the building at around 3 a.m. A few hours later, people started contacting him to check if he was OK.
"I just rushed over here," Cruz said.
The Los Angeles Police Department was investigating the incident.
Authorities provided no further details.