This is an archived article and the information in the article may be outdated. Please look at the time stamp on the story to see when it was last updated.
Two people were killed in a multivehicle crash on the 110 Freeway in South Los Angeles late Sunday night.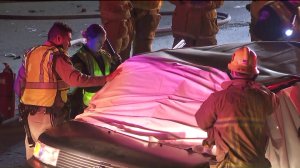 The crash was reported about 11:26 p.m. on the northbound side of the freeway near Slauson Avenue, California Highway Patrol Officer Kravig said.
The incident began when two people in a Scion SUV came to a stop in lanes, likely because the vehicle was disabled, Officer Jessie Karasinski said. Another vehicle came along and crashed into the Scion.
"We don't whether the hazards were on or not at this time," Karasinski said.
A woman who had been driving the Scion and a man in the passenger seat were killed in the crash, Karasinski said.
The driver was later identified as 37-year-old Bilda Santizo of Los Angeles by coroner's officials. The passenger was a Latino man in his 60s who lived in San Bernardino, but his name was not being released pending the notification of his family.
One person in the vehicle that struck the Scion complained of pain after the crash but was expected to be OK.
Three more vehicles then struck either the Scion or the vehicle that initially hit the Scion.
Only one person involved in those crashes complained of pain, but was also expected to be OK, Karasinski said.
The multivehicle crash prompted officials to issue a SigAlert around midnight for four northbound lanes, Kravig said. The freeway lanes remained closed for several hours but reopened just after 5 a.m.
The crash was under investigation, Karasinski said.