This is an archived article and the information in the article may be outdated. Please look at the time stamp on the story to see when it was last updated.
A man and woman residing in Ladera Ranch were hit with numerous felony charges Thursday in connection with a prostitution business prosecutors say they were operating for nearly two years at luxury apartments in Irvine.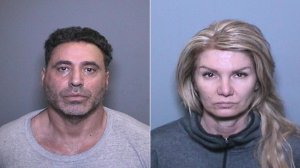 The man authorities call the "brother ringleader," 53-year-old Fadi Boulos Chaiban, is accused of pandering at least 29 women to commit prostitution, according to a statement from the Orange County District Attorney's Office. In addition to one felony pandering charge for each woman, Chaiban was charged with three felony counts of pimping and two felony counts of conspiracy to commit pandering, officials said.
Co-defendant Tina Lorraine Saunders, also 53, was charged with one felony count each of conspiracy to commit pimping, conspiracy to commit pandering, pimping, and pandering, the DA's office said.
Prosecutors say Chaiban ran a "sophistical brothel operation" at various high-end apartment complexes in Irvine between April 2015 and January 2017, recruiting adult women to work for him by posting internet ads to meet potential victims. Saunders is accused of aiding Chaiban's operation by renting an apartment for him to use as a brothel, authorities said.
Both were taken into custody on Tuesday as they were leaving their home, officials said, and Chaiban is accused of possessing more than $469,000 in cash in a storage locker at the time of his arrest.
Law enforcement located several luxury apartment buildings in Irvine where Chaiban allegedly arranged for clients to pay for sex, according to the DA's office. During their probe, investigators saw dozens of men enter and exit the apartments in 30-minute and one-hour intervals before victims left in the evening, the release states.
Chaiban collected cash earnings left behind in the apartments by victims at the end of each day, keeping the majority for himself, according to prosecutors. He is also accused of maintaining a detailed client list.
The "ringleader" allegedly took sexually explicit photos of more than 28 different victims that were posted to websites commonly used to advertise prostitution, as well as a website he ran. Chaiban is additionally accused of pretending to be a woman online to communicate with clients and set up prostitution dates, authorities said.
If convicted, Chaiban faces a maximum sentence of 45 years and four months in state prison, while Saunders faces a maximum of six years in state prison, the DA's office said. His bail has been set a $3 million and hers has been set at $500,000; both must prove bond money is from a legal and legitimate source.
The investigation is ongoing and officials are seeking potential additional victims. Anyone with information can contact Irvine Police Detective Hall at 714-765-1904, or OCDA Supervising Investigator Frank Reynoso at 714-347-8560.