This is an archived article and the information in the article may be outdated. Please look at the time stamp on the story to see when it was last updated.
Two Los Angeles Police Department officers were injured in downtown crash early Tuesday, officials said.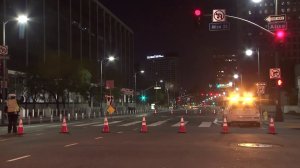 The crash was reported about 1:20 a.m. near the intersection of North Los Angeles Street and East Temple Street.
The patrol car and a produce truck crashed, but the circumstances are unknown.
Both officers were taken to a hospital, police said.
One complained of pain to her neck and knees, and the other had a laceration to his face and complained of pain to his ankles.
The condition of the produce truck driver is also unknown.
No further details about the crash have been released.
KTLA's Geoff Peters contributed to this story.