This is an archived article and the information in the article may be outdated. Please look at the time stamp on the story to see when it was last updated.
A Los Angeles Police Department officer has died and another one was seriously injured after a violent hit-and-run in Harbor City on Saturday morning, police said.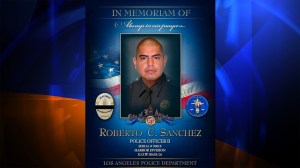 The collision between the patrol car and an SUV occurred around 3:45 a.m. near the intersection of West Anaheim Street and President Avenue (map), according to Lt. John Pasquariello with the LAPD's Harbor Division.
Two officers were in the vehicle at the time of the crash. The officer driving the police vehicle was initially reported to be in critical condition, while the officer on the passenger side was in serious but stable condition, according to Pasquariello.
The critically injured officer was later pronounced dead. He has been identified by police as 32-year-old Roberto Sanchez.
The other officer was expected to survive, an LAPD news release stated.
"In this difficult time for the Los Angeles Police Department, sorrow comes to us by the tragic loss of our brother," LAPD Chief Charlie Beck stated in the release. "His surviving partner officer, remains hospitalized.  He will need your prayers while he recovers and copes with the tragic loss of not only a partner, but a best friend."
Sanchez was a six-year veteran of the LAPD and his previous areas of patrol included West Los Angeles, Newton, and Harbor, the release stated.
"We shall never forget Roberto, who gave his life in the name of serving others," Beck stated.
Mayor Eric Garcetti also expressed his condolences through an emailed statement.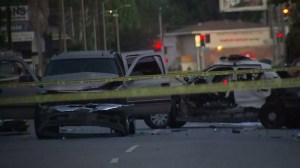 "I am deeply saddened by the death of LAPD Officer Roberto Sanchez. Officer Sanchez died a hero, but that does not lessen the blow to his family and fellow officers," Garcetti said.  "We are also hoping for the recovery of the officer he was riding with last night, who was also his best friend."
Officers lined up outside Harbor UCLA-Medical Center early Saturday afternoon to honor the fallen officer as his body was moved to the L.A. County Coroner's office, according to a tweet from the California Highway Patrol.
A preliminary report on the crash indicated that officers were following a vehicle that was allegedly driving at a high rate of speed in eastbound lanes on West Anaheim Street, according to LAPD Cmdr. Andrew Smith.
The car then made a u-turn, Smith said. Officers followed and were struck by the SUV, which was heading east.
"The SUV hit the police vehicle – we're calling it a 't-bone-type accident' – and it caved in the driver's side of the vehicle." Pasquariello said.
One of the officers involved in the crash used his cell phone to call for help.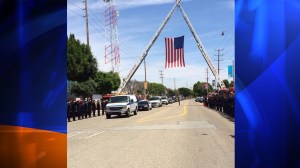 "He wasn't able to get to his police radio and put out a help call. That's how violent the collision was," Pasquariello said.
A male "suspect" exited his vehicle and fled the scene on foot, according to Pasqauriello, who added that he was found a short-time later and taken into custody.
The man was then transported to a hospital, Pasquariello said. His condition was not immediately known.
Pasquariello added that investigators were trying to determine whether alcohol or drugs played a role in the crash.
The cause of the collision was under investigation.
Saturday's crash was the third in which an LAPD officer was killed in a period of less than two months.
In March, veteran LAPD officer Nicholas Lee was killed, and his partner injured, when their patrol car collided with an out-of-control trash truck in Beverly Hills.
A month later, Officer Chris Cortijo died several days after an alleged DUI driver struck his motorcycle.
"This third loss of an officer in the line of duty in just two months is a stark and tragic reminder of the dangers our first responders face every day. It is with a heavy heart that I am again ordering the city's flags to half staff," Garcetti said in the statement.
Sanchez was survived by his wife and both of his parents.
In this difficult time for the #LAPD, sorrow comes to us by the tragic loss of our brother. Pray for our officers. pic.twitter.com/6hhdQQ4lv1

— Chief Charlie Beck (@LAPDChiefBeck) May 3, 2014
We shall never forget Police Officer Roberto Sanchez. #LAPD hero who gave his life in the name of serving others #RIP pic.twitter.com/oZG0NmMveI

— Chief Charlie Beck (@LAPDChiefBeck) May 3, 2014
Check back for updates on this developing story.
KTLA's Erin Myers contributed to this report.