This is an archived article and the information in the article may be outdated. Please look at the time stamp on the story to see when it was last updated.
Prosecutors have declined to charge two Los Angeles police officers who shot and killed an unarmed man in Van Nuys after he threw a beer bottle through a window of their police car, authorities announced Monday.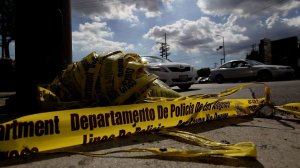 Although the officers fired a combined 18 rounds at James Byrd during the 2015 shooting, prosecutors wrote, their actions were legally justified because they reasonably believed Byrd was armed with a gun and had shot at them.
No gun was ever found at the scene. Instead, authorities determined, Byrd shattered the police car's back window with the bottle — a sound the officers and witnesses believed was a gunshot, prosecutors said.
"The fact that Byrd did not actually present a deadly threat when the officers reacted is immaterial," prosecutors wrote in an 11-page memo outlining their decision. "[The officers] were entitled to respond to an apparent deadly threat with deadly force and they were entitled to engage Byrd until he no longer presented a threat."
Read the full story on LATimes.com.