This is an archived article and the information in the article may be outdated. Please look at the time stamp on the story to see when it was last updated.
Police were searching Saturday for two men and a woman who allegedly stole a vehicle at gunpoint at California State University, Northridge.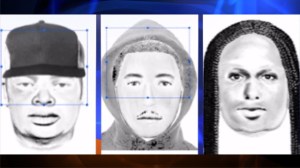 The carjackers approached the victim around 11:30 p.m. Friday in the F-9 parking lot, near the campus dorms and just south of Lassen Avenue, according to a campus crime alert.
A man engaged the victim in conversation before pulling out a black semi-automatic handgun and demanding their keys.
Two men and a woman then entered the vehicle, which was later found in the surrounding area.
The gunman was described as 19 to 20 years old, 5 foot 9 inches tall, slender with medium to dark skin tone. He was wearing blue jeans, a blue flat brim hat and dark hooded sweater.
The second alleged thief was described as a man, 19 to 20 years old, 6 feet tall, medium to dark skin tone, with a mustache. He was wearing dark Dickies shorts, a red T-shirt and gray hooded sweater.
The woman was also described as 19 to 20 years old. She was short and stocky, with a dark skin tone, long braids, and was possibly wearing gray sweats, a jacket and yellow striped shirt.