This is an archived article and the information in the article may be outdated. Please look at the time stamp on the story to see when it was last updated.
Three people were taken into custody on Tuesday afternoon in connection with a recent paintball attack that may leave a 65-year-old man blind in one eye.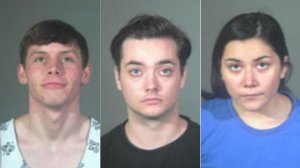 Officers detained the two men and one woman based on descriptions of the suspects from two other victims in the attack Sunday night, according to a Torrance Police Department news release. The paintball gun and some paintballs were also recovered.
The three were each arrested on suspicion of assault with a deadly weapon, conspiracy and mayhem, Sgt. Ronald Harris told the Los Angeles Times.
The suspects have been identified by police as Tyler Walters, 20, from Torrance; Lynn Johnson, 20, from Hawthorne; and Gabriella Semana, 18, from Lomita.
The Times reported that police have yet to determine who was driving the vehicle and who fired the paintballs which struck Michael Fejes.
Fejes was shot twice in the face as he was walking in a Torrance neighborhood around 9:30 p.m. on Sunday. As he tried to call 911, he was shot a couple more times in the back as the suspects drove away.
"You could hear the laughter, and knowing they had just scored a direct shot into my head, they were going crazy," Fejes told KTLA in an interview on Monday.
Fejes underwent surgery on his injured eye the following day.