This is an archived article and the information in the article may be outdated. Please look at the time stamp on the story to see when it was last updated.
Two men have been arrested after allegedly kidnapping and raping two juveniles in Grand Terrace earlier this year, the San Bernardino County Sheriff's Department said Monday.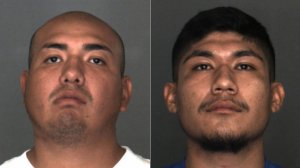 The investigation began on May 23, when two juveniles told deputies they had been kidnapped and raped, according to a sheriff's news release.
Deputies gathered information during the investigation and identified 28-year-old Ubler Garcia and 19-year-old Brian Lasaro Quintanillagarcia as suspects in this case, the release stated.
According to sheriff's officials, the two men used a social media app to "lure" and meet the alleged victims.
After meeting up with the minors, the suspects allegedly kidnapped them and took them to a secluded area, where both men are accused of raping the juveniles, the release said.
Amid the ongoing investigation, arrest warrants were obtained for the suspects, who were taken into custody without incident.
Quintanillagarcia, of Mentone, was arrested on November 2, and booked into the West Valley Detention Center, according to the release. He is being held on an $800,000 bond.
Garcia, of San Bernardino, was arrested five days later. He was booked at the Central Detention Center, and is also being held on an $800,000 bond, authorities said.
Authorities are concerned Quintanillagarcia and Garcia may have met other juveniles through social media. The Sheriff's Department released the booking photos of both men, and say they may have used the nickname of "Webs" online. The social media app was not named.
Anyone who believes they may have been victimized by either suspect can contact the department 909-387-3700.