This is an archived article and the information in the article may be outdated. Please look at the time stamp on the story to see when it was last updated.
Police were searching for two men who allegedly robbed a mother and daughter at gunpoint and hit one woman in the head while burglarizing a West Covina home on Sunday.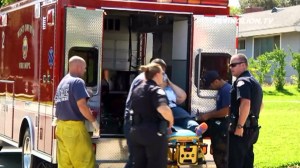 The two men allegedly entered an open garage door at a home in the 3000 block of East Larkwood Street (map) around 10 a.m., according to West Covina Police Department Lt. Patton.
They allegedly stole various electronics and cash from the 82-year-old woman and her 56-year-old daughter, who was struck in the head with a blunt object during the ordeal and later treated at the West Covina Fire Department.
The men fled the scene in a white Chevy Camaro.
One man was described as a black, about 30 years old, wearing a short sleeve shirt with jeans.
The second man was described as black, about 20-25 years old, clean shaven, wearing a dark colored shirt with jeans.